Winter is Coming. . .
Don't know how many of you have ever heard of A Game of Thrones beforehand, but it's television adaptation debut certainly has me psyched! Based on the best selling book series
A Song of Ice and Fire
, by George R R Martin, this series has the potential to rival The Sopranos as the greatest television show ever made, thanks no part to his riveting source material. The books themselves are my #1 all-time favorite novels, and
A Song of Ice and Fire
itself, as a whole, stands on my personal "Tri-force" of inspiring artistic vision(Dragonball Z and Metal Gear Solid being to other two).
I've only read the first 3 books in the series, but since the series is set to premiere on April 17th, and the fact the 5th book is hitting stores this July, I've reread the first book in anticipation so I can accurately judge if this adaptation will truly match the awesomeness of the books. To anyone who has the faintest interest in reading, I cannot recommend or badger you enough to read them. They really are something quite amazing--but enough of my rambling.
Even though April 17th is about a week and a half away--that hasn't stopped HBO from releasing the first 15 minutes of the first episode on their website. I haven't watched it yet, but very soon.
So, anyone excited like I am? Or simply curious about what all the hubub is all about?
Here's a trailer for a quick overhead.

http://www.youtube.com/watch?v=5PxLidxnAE8
Also, if your lost about the dozens of characters in this series, HBO has quite a few really well-done preview features done on the different families and important characters. But, for the moment, I'll just leave you with a few pics of one of one of my favorite characters, Daenerys Targaryen--Blood of the Dragon.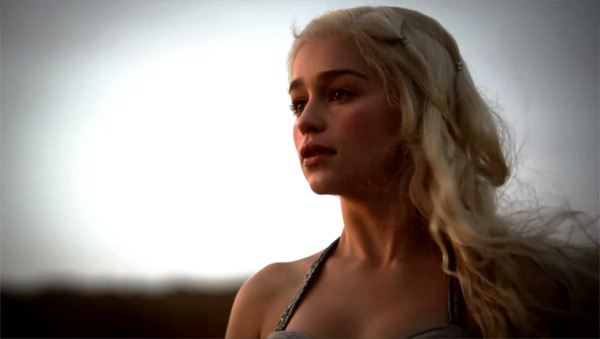 Don't wake the dragon!
Thoughts?