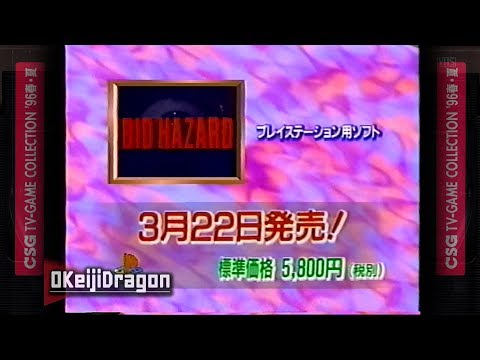 UPDATE:
Above is a re-upload of the Resident Evil CSG 1996 footage I uploaded in 2012, but at a higher frame-rate and quality. We can see some of the live-action cutscenes in more fluid motion now. A brief write-up of the clip can be found on my Patreon, Video Basement, which I released this under: https://www.patreon.com/posts/29044944
This particular footage of BioHazard (PS) was originally included on the December 1995 PlayStation version of Street Fighter Zero as a trailer for the game. The difference here being in higher quality, plus it includes the game's live-action scenes in a clearer, full frame-rate. Plus a clearer, rudimentary version of the inappropriately catchy Japanese theme song "Yume de Owarasenai," can be heard. The pre-release build shown in this footage is apparently from the October 1995 beta of the game.
I recently purchased a VHS tape from an eBay seller in Japan called
CSG TV-Game Collection '96
. CSG features lots of old Japanese Super Famicom, Sony PlayStation, Sega Saturn, NeoGeo CD, PC-FX (and I think, 3DO) games from that era of gaming. The games featured come from many various Japanese game developers that you can probably think of, including Capcom, Sega, Konami, NEC, MediaWorks, Game Arts, Takara, Tomy, and much, much more. Biohazard was featured in the tape.
The VHS tape was just delivered to my residence this past Saturday, I'm now in the process of ripping the entire VHS cassette. If you are looking for me to confirm certain games from certain developer, I can report them here. Now, I can't personally list every single game on this video tape for catalog reference off the bat as there are about less than a hundred games, whose titles that aren't in katakana I can't read, so you'll have to rely on the developer list shown (did I just wrote a catch-22 paragraph just now...?). I have a
photo of the front label of the tape
on twitter.
Alongside Biohazard (PS), I've put up a promo of Mega Man X3 (PS1 / SS / 3DO) from the same tape, if your interested:
YouTube video: